Office
540-659-0107
Fax
540-659-4952
P.O. Box 3271
2145 Jefferson Davis Hwy
Stafford, VA 22555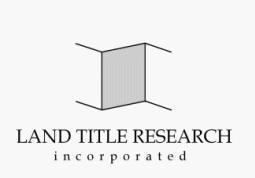 www.ltrinc.com


Land Title Research, Inc.
is conveniently located
just next door to the
Stafford County Courthouse.
---
For your convenience, we have
examiners working in the local
courthouses on a daily basis.
---
24 HOUR
BRINGDOWNS
No Additional Fee
---
FREE Delivery & Pickup
for centrally located clients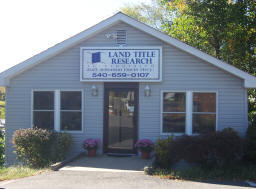 Land Title Research, Inc. is a real estate title research company located in Stafford County next to the Stafford County Courthouse. We conduct research in the Courthouses of Stafford, Spotsylvania, the City of Fredericksburg, King George and Caroline.
Land Title Research has been providing title services in the area for over twenty years. With an extensive title plant based on 60 year searches and a plant size of over 60,000 title files, subfiles, and builder lists, we are able to perform customized searches to fit your individual needs. We are proud of our highly experienced and qualified staff, and we place a strong emphasis on continuing education.
At Land Title Research we take great pride in our solid commitment to our clients. Our rates are competitive and we are upfront about our fees, with no hidden costs. Our goal is to provide you with a quality product within your time frame. We invite and encourage you to draw on our experience in the Title Research Industry. Make Land Title Research, Inc. your first choice for all your real estate title research needs.
Land Title Research is operated by Julie Ann Rutledge, who has been with the company since 1985. Julie is a licensed Title Insurance Underwriter, a graduate of James Madison University, and she serves on the Board of Zoning Appeals for Stafford County. A recognized expert in her field, Julie's reputation for quality title work has grown with the title plant she has developed.
Office Manager Brenda Scherzer has been with the company since 1988. Brenda's excellent organizational skills hold the entire process together from title order to recording. She is the calm and friendly voice who is always available with the information you need.